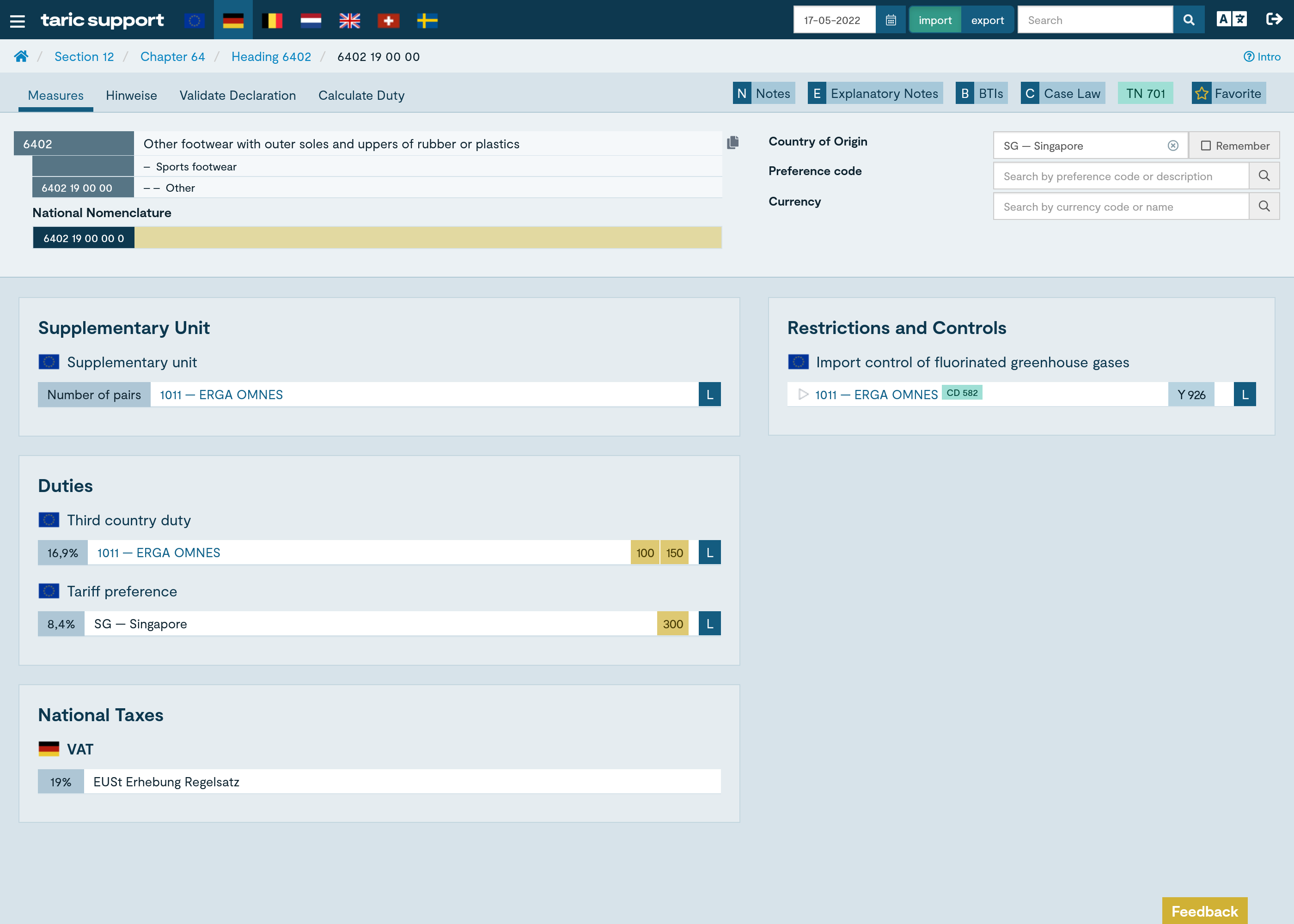 The easiest and fastest way to prepare customs declarations
The trade tariff reimagined. Powerful yet user friendly, with an intuitive use of colors.
All designed to help you prepare customs declarations quickly. Includes the integrated trade tariff of the EU, as well as the national trade tariffs of Germany, Belgium, the Netherlands, Sweden, Switzerland and the UK.

Duties and taxes
Prohibitions, Restrictions and Controls
Antidumping Measures
Meursing calculator and reference prices for agricultural products
Additional codes filters
Rules and regulations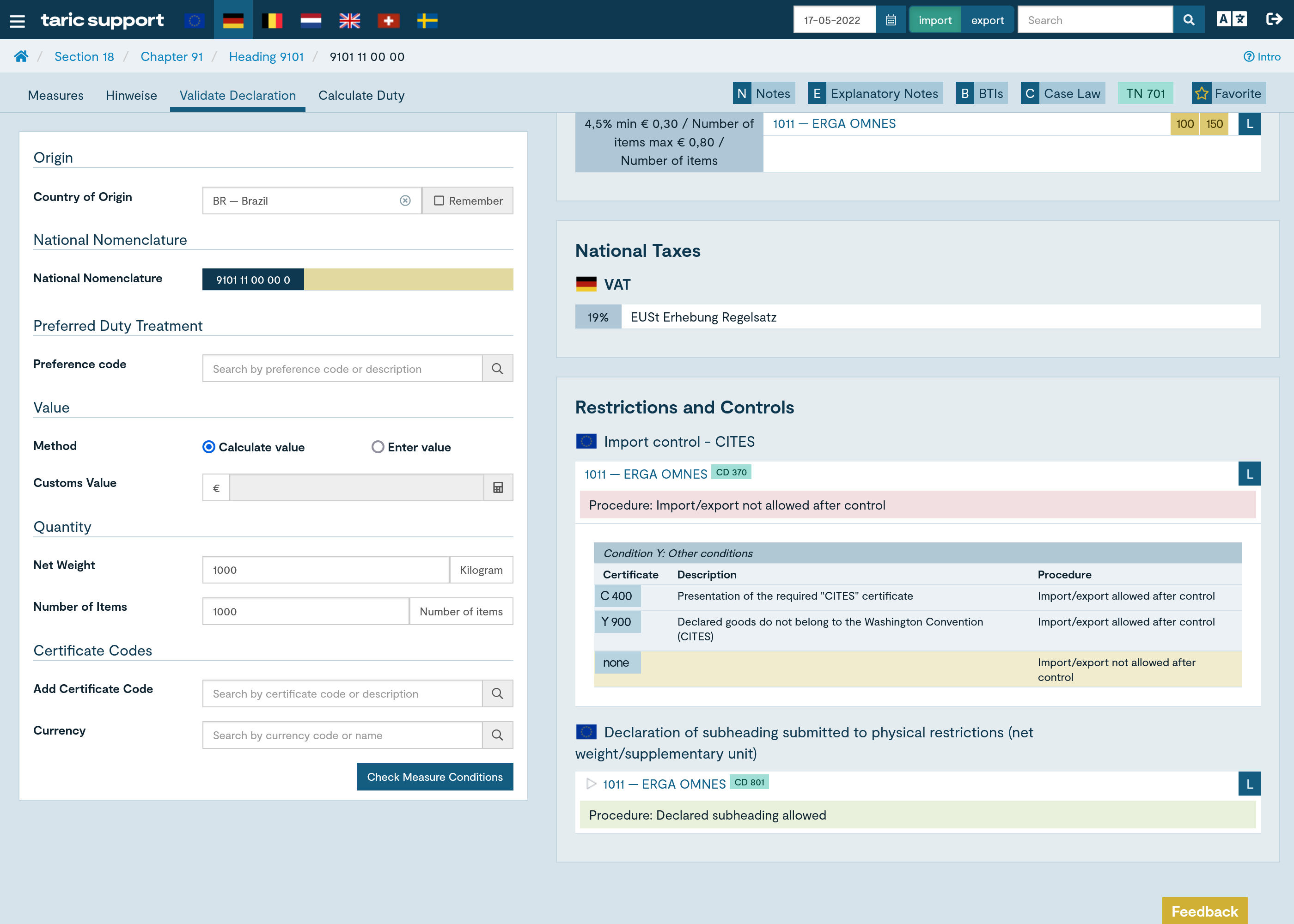 Validate declaration lines before submission to customs
Don't rely on error messages from customs declaration systems any longer, that's asking for trouble!
The declaration validator is the easiest and fastest way to validate your customs declarations before they are sent to customs and allows you to:
Validate the commodity code
Validate additional codes
Validate certificate codes and Y codes
Check prohibitions and restrictions related to customs value, net weight and/​or supplementary values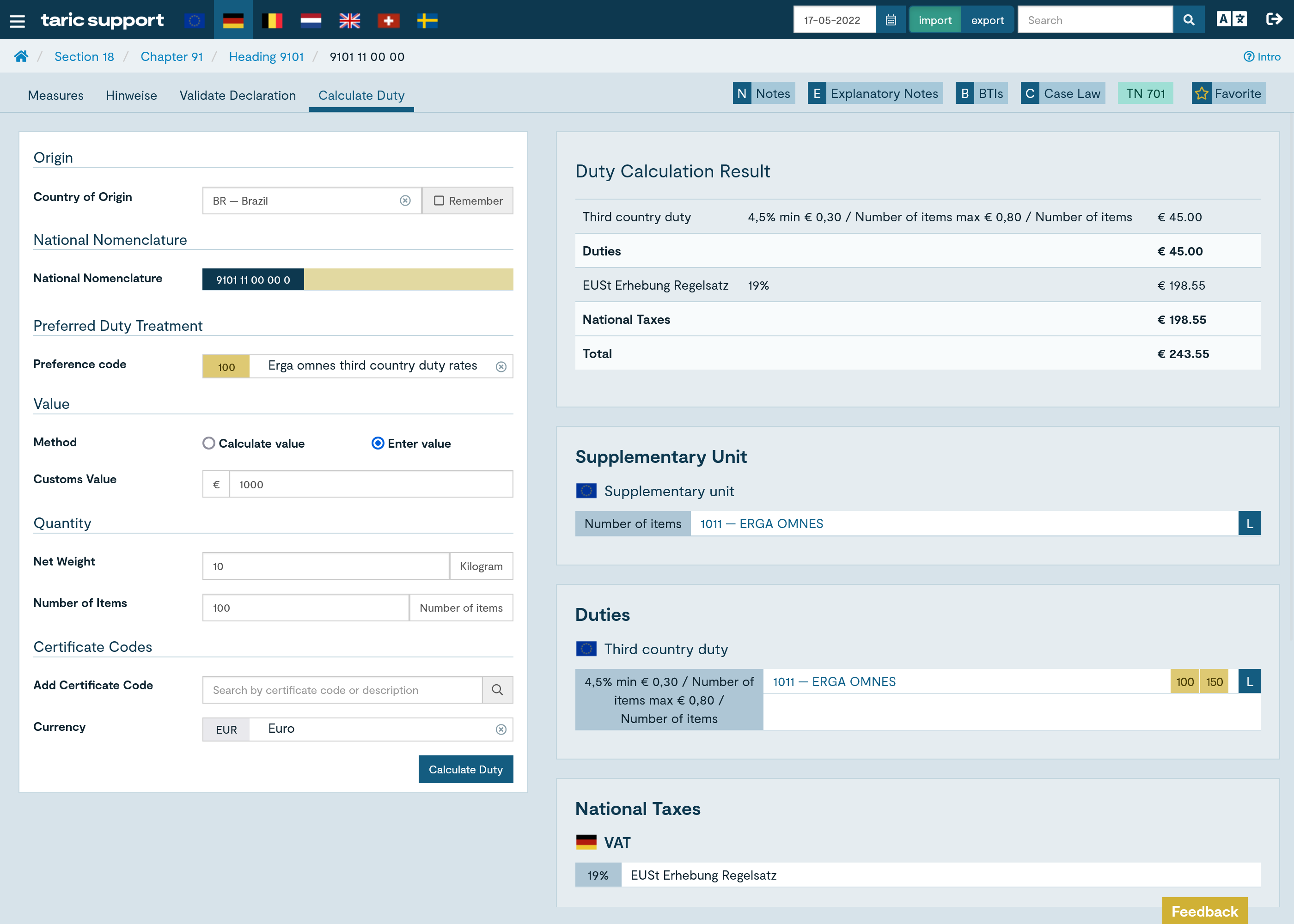 Calculate import duties for the EU and GB
The duty calculator includes national taxes for Great-Britain, Germany, Sweden, Belgium and the Netherlands.
Supports all the different types of duties in the European customs tariff (TARIC) and the UK Global Tariff (UKGT), among which:
Ad valorem duties and duties based on various types of quantities, such as weight, volume and/​or number of items
Import duties for agricultural products that depend on a Meursing additional code
Duty rates linked to the entry price system
Antidumping and countervailing duties
As with all the trade tariff information in our platform, the duty calculator works with data that is updated on a daily basis.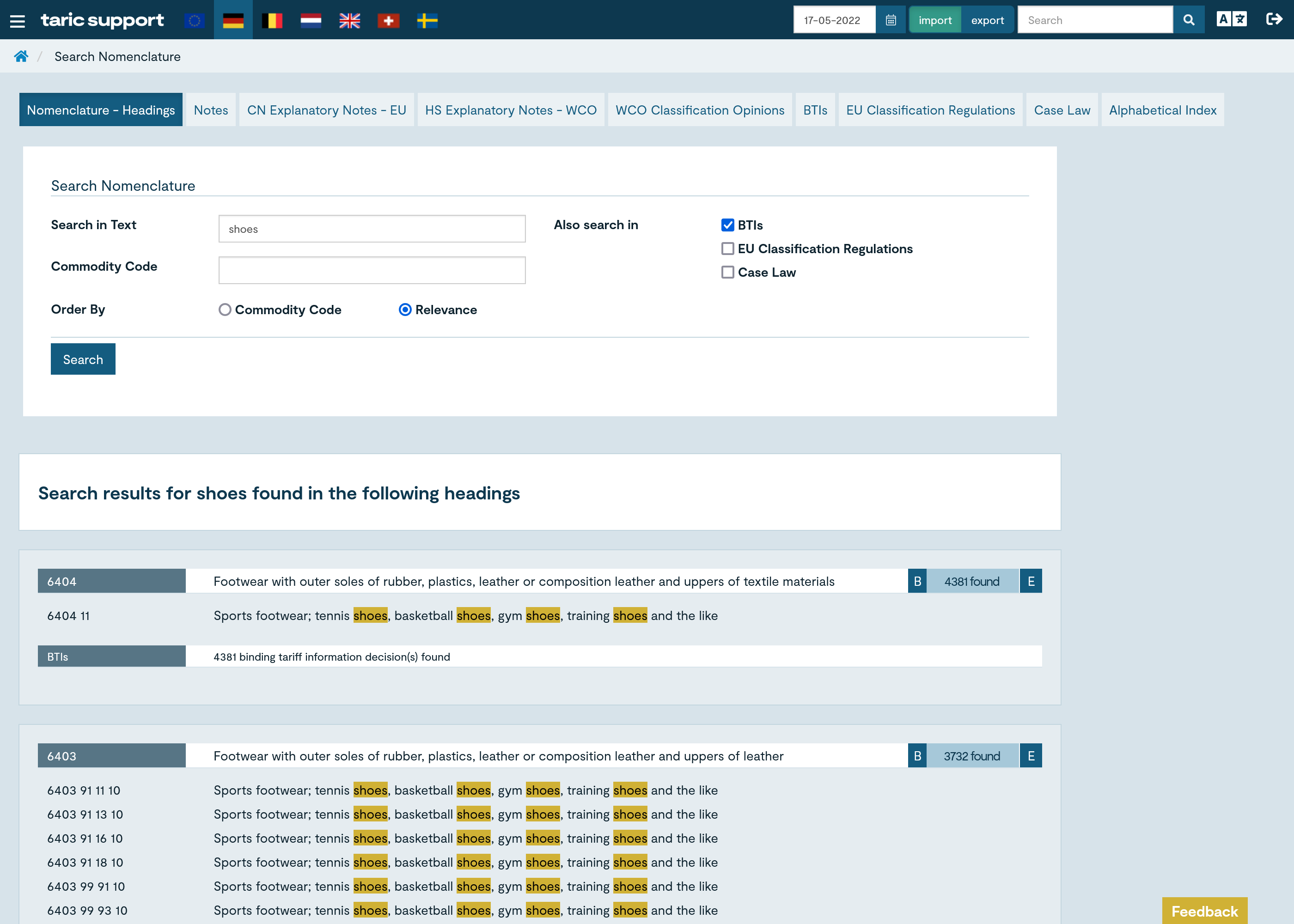 Everything you need to classify with confidence
When classifying a product, you need to check a lot of different data sources. You can find them all in our platform, just one mouse click away.
We make sure that everything is up to date. If an explanatory note changes, for example, we'll update it in our application. That way you're always working with current information.
Nomenclature with descriptions in all EU languages
Section and Chapter Notes
WCO Explanatory Notes and Classification Opinions
EU Classification Regulations
Case Law relevant to classification of products
An alphabetical index of classified products
The entire EBTI database: hundreds of thousands of examples of products that have been classified by customs authorities. Includes a history of BTIs that are no longer valid, but ever so useful.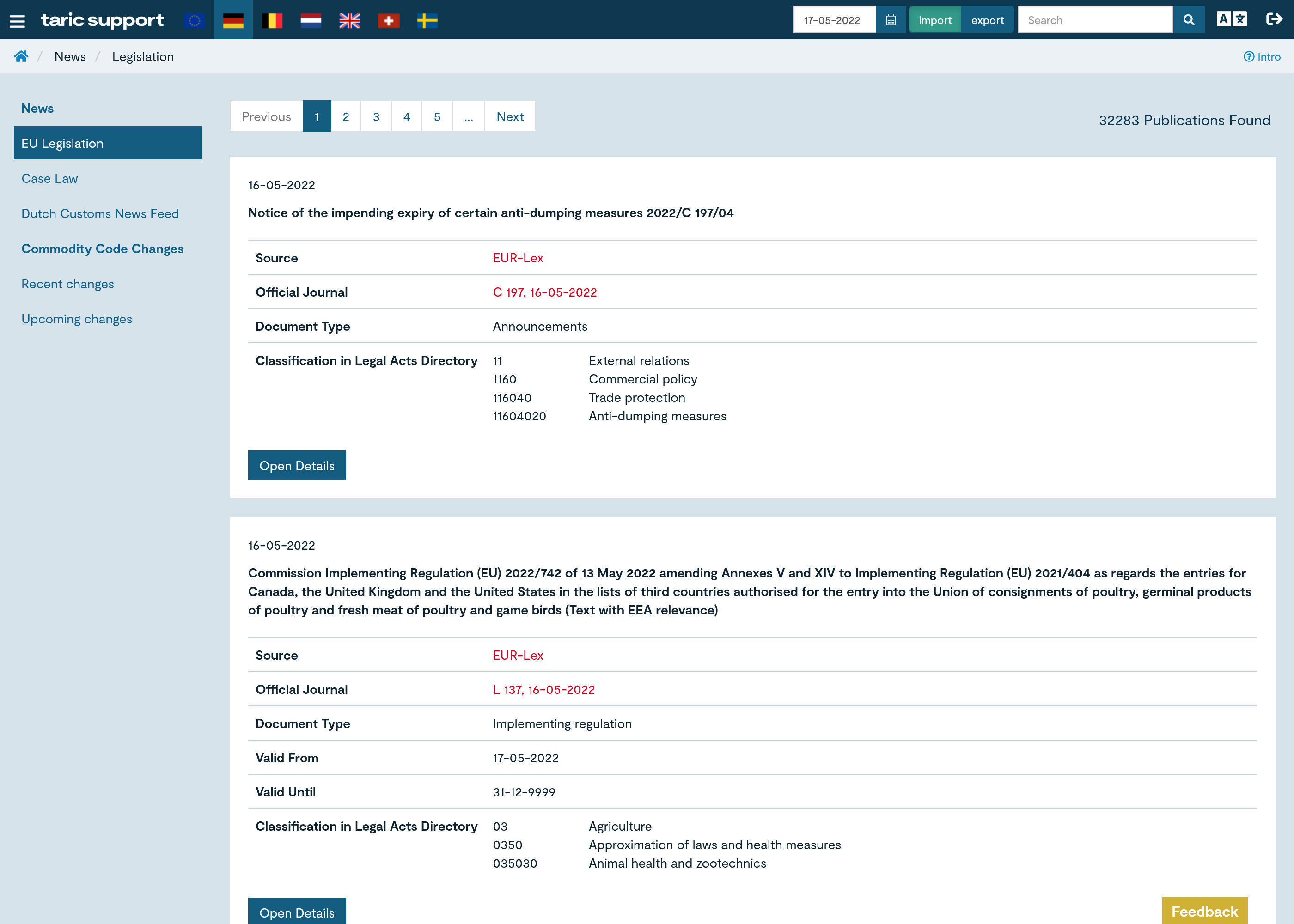 The latest news on legislation and case law
The regulatory landscape for customs affairs is ever-changing. Consequently, it's of paramount importance to stay up to date.
However, manually scanning sources like EUR-Lex and CURIA on a daily basis is a huge time sink. They try to provide everything to everyone: it's our experience that these websites contain too much irrelevant information. That's why we only focus on giving you the news that you need.
A news feed containing the latest rules and regulations from EUR-Lex
The latest notices to importers and exporters (e.g. related to antidumping measures)
An overview of the latest customs related case law
A correlation table showing which HS codes have changed and how
The latest binding tariff information from EBTI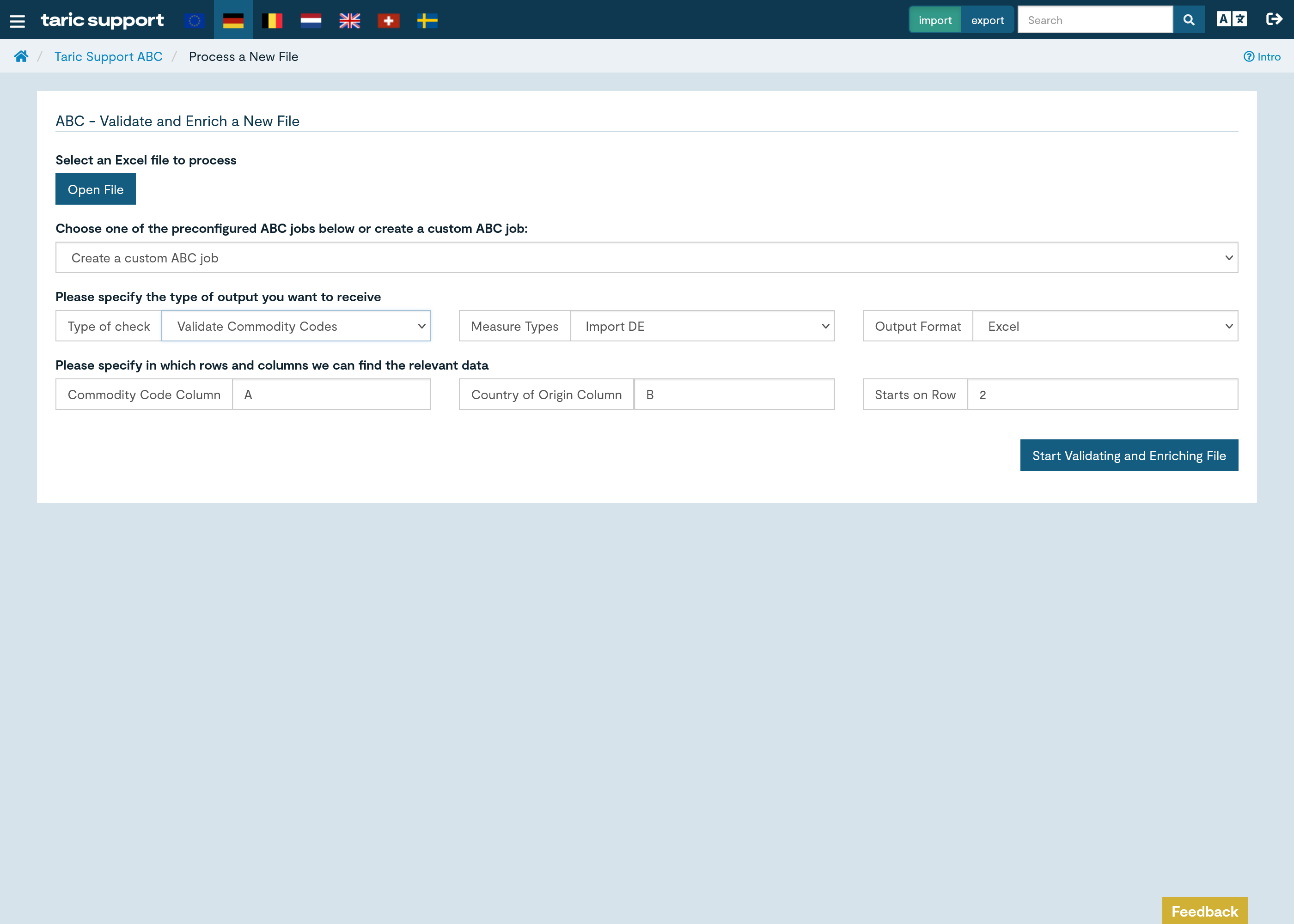 Validate and enrich hundreds of codes per minute
With Taric Support ABC, what used to take days, now takes one click of a button.
How does it work? Upload a file, e.g. a master data file, order manifest or customs declaration. Select a validation and press start. Seconds later, you can download an Excel file containing a lot of useful information. First off, the result of the commodity code validation:
Commodity codes are flagged as valid or invalid
For incomplete commodity codes, the possible completions are shown
This immediately allows you to take action and start fixing the errors in the data file. But it doesn't stop there. ABC adds a range of trade tariff data to the output file, such as:

commodity code description
additional codes
particular provision codes (Y‑codes)
certificate codes
duty and tax rates
Taric Support ABC combines the power of our API with the flexibility of uploading and downloading Excel files.
Pricing
At Taric Support, we want to empower everyone to take care of their customs affairs. That's why we've built an extremely user-friendly online SaaS platform that unlocks all relevant customs information. In this regard, an affordable price is also part of the equation.
Application subscription
Per user per month:
€79.50
WCO Explanatory Notes module
Per user per month:
€36.75
German trade tariff
Per user per month:
€17.50
Case Law module
Per user per month:
On request
Taric Support ABC
Subscription:
On request
At Taric Support,
we're obsessed by
customs data.
As customs information experts ourselves, we love to dive into the nitty-gritty details. We feel that seeking out complex legislative information is a thrill. We love to study all possible data sources meticulously so that we can assure that all information for a commodity code is complete and up-to-date. And so we also know what it takes to meet all customs formalities.
Read our manifesto